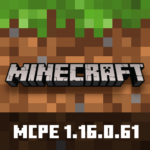 Minecraft PE 1.16.0.61
Download Minecraft PE 1.16.0.61 APK for Android with a working xbox live account! A more detailed description can be found below.
Spawn mobs
The players found the problem:
Create a flat world
Place 200 racks for armor
Not a single mob will appear!
This was published on the official Mojang website. Now the armor racks do not interfere with spawning mobs. This has been fixed in version 1.16.0.61.
Java Parity
Version 1.16 is partly aimed at the equality of Java and Bedrock. Today we added a few more:
The water starts to freeze from the edges, just like in Java
Now the anvils count the "Cost of Enchantment", not the "Cost of XP"
Falling from a height
Now the "Weightlessness" charm works correctly. In the previous version, it was too strong. Example:
Wear any shoes with the "Weightlessness" charm
Climb to a height of 200 blocks
Jump!
Almost no damage! Now it has been fixed..
Fixed bugs
Fixed 62 bugs. Some of them are in the list:
Fixed the operation of the game on Samsung Galaxy S Duos 2
Fixed departures in the Region
Fixed crashes when switching to another dimension
Fixed a crash from the /kill command when the Dragon is reborn
Fixed crash when loading classic skins
Improved support for the skin editor
Classic skins now load faster
The range of the mob's despawn is tied to the drawing range
Fixed fall damage protection
Players can now enchant only 1 compass at a time
Fixed accidental disconnection of redstone torches
Parrots no longer hang in flight mode
Mobs who know how to pick up armor prefer iron instead of chain mail
Fixed the flickering of chunks after changing the drawing distance
Fixed cards that became invisible
The pictures are now displayed correctly
The beams from the Lighthouse are now displayed correctly
Fixed the display of flame animation on arrows and monsters
Fixed the work of animated textures
Fixed the flickering of enchanted items
This is a beta version. Make backup copies of the worlds.
Download Minecraft 1.16.0.61 Beta
Version 1.16.0.61 Beta
Working Xbox Live

Free login to your Xbox Live account is available. No restrictions.

Working servers without Xbox Live

To log in to the server, you no longer need to log in to your Xbox Live account. You can simply change your nickname and start the game on the server.
Official Changelog