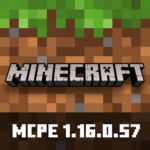 Minecraft PE 1.16.0.57
Download Minecraft PE 1.16.0.57 APK for Android with a working xbox live account! Everyone was waiting for this update, because Bedrock added Infernal features from Java. You can read the details in the main article, here we will analyze only the newest.
Lavomerki
Anchor of Rebirth
Remains of Bastions
Basalt deltas
Black Stone
Magnetite
Zoglins
Abandoned portals
Remains of Bastions
Something new! The remains of Bastions are large structures in the Lower World. Piglins live here and protect their treasures. There are 4 types of bastions.
Emotions in Minecraft
Back at Minecon 2019, Mojang announced that emotions would appear in the game. A new "Emotions" tab has appeared in the character editor. Now 1 emotion is available. The list of emotions will be updated.
Important changes and fixes
In addition to the infernal novelties, important changes and fixes have been added to the game. In total, more than 50 changes have been made.
The prices of goods and Villagers have become the same as in Java
Changed the sounds for honey blocks
Creepers do damage again if they explode while in the boat
Updated underwater music
New layout for the Servers tab
Before logging in to the server, you can see information about it: description, screenshots, available modes, news
Added a kick system for players: /kick nickname reason
Added a system of bans
The /spawnpoint command can now be used in the Lower World
The game does not crash after the explosion of the bed in the Lower World
The accumulated experience is no longer lost after restarting the game
Fixed the gait of the Iron Golem
Fixed trading with Piglin
Added vines, chains, speed of souls
Added sounds and a new record "pigstep"
Added a blue bonfire
Hoglins and piglins now have sound
The compass is renamed if you charge it with Magnetite
Quartz bricks were added
A Jigsaw puzzle block has been added. How to get:
– /give @s jigsaw
This is a beta version. Make backup copies of the worlds.
Download Minecraft 1.16.0.57 Beta
Version 1.16.0.57 Beta
Working Xbox Live

Free login to your Xbox Live account is available. No restrictions.

Working servers without Xbox Live

To log in to the server, you no longer need to log in to your Xbox Live account. You can simply change your nickname and start the game on the server.
Official Changelog