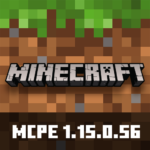 Minecraft PE 1.15.0.56
Download Minecraft PE 1.15.0.56 APK for Android with a working xbox live account! The developers have fixed bugs and optimized the game.
More bug fixes?
We constantly read negative messages "Again bugfix?". Yes, again. You may think it's easy to fix mistakes, but have you ever been involved in creating a game of this scale? This is a complex process.
We can say for sure: in addition to the official list of changes, developers are reworking the game client. We are following unofficial changes, a lot is changing in the structure of Minecraft Bedrock.
Fixed bugs
Fixed 25 bugs. Basic:
Fixed crashes during the game
Fixed adding blocks with addons
Fixed recipes in addons
Fixed loading of worlds
Fixed animation of hands during shooting or fishing
Fixed the destruction of blocks
Fixed the work of Observers
Fixed the weapon enchantment
Fixed the display of armor on the player
Fixed sheep shearing
Fir trees are no longer generated without wood
Foliage no longer prevents new seedlings from growing
Funnels collect bone meal from Composters
This is a beta version. Make backup copies of the worlds.
Download Minecraft 1.15.0.56 Beta
Version 1.15.0.56 Beta
Working Xbox Live

Free login to your Xbox Live account is available. No restrictions.

Working servers without Xbox Live

To log in to the server, you no longer need to log in to your Xbox Live account. You can simply change your nickname and start the game on the server.
Official Changelog