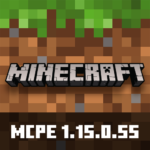 Minecraft PE 1.15.0.55
Download Minecraft PE 1.15.0.55 APK for Android with a working xbox live account! Android version with fixed bugs.
Java Parity
Minecraft Bedrock 1.15 update is aimed at equality with Java and bug fixes. Version 1.15.0.55 has made Bedrock a couple of steps closer to Java:
Water-filled blocks now do not lose water when the piston is shifted
Healed Zombie Residents are now selling discounted Items
Fixed bugs
The developers have fixed 16 bugs. The main ones are:
The funnel trolley now drops the trolley and the funnel if it was broken by a long-range attack
Villagers sell Enchanted Books for Tridents
A creeper exploding in a boat causes damage
Fixed a crash when enchanting a fishing rod
The rating of products on the market is displayed correctly
Kelp will grow, even if you cut off half of the sprout with a piston
Blue Desiccant Skulls Destroy Obsidian
The Edge Dragon does not kill the player too quickly
Fixed bugs with honey crafting recipes
Zombies are breaking turtle eggs again
This is a beta version. Make backup copies of the worlds.
Download Minecraft 1.15.0.55 Beta
Version 1.15.0.55 Beta
Working Xbox Live

Free login to your Xbox Live account is available. No restrictions.

Working servers without Xbox Live

To log in to the server, you no longer need to log in to your Xbox Live account. You can simply change your nickname and start the game on the server.
Official Changelog