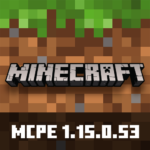 Minecraft PE 1.15.0.53
Download Minecraft PE 1.15.0.53 APK for Android with a working xbox live account! Fixed a few bugs.
Why 100 megabytes?
The weight of the apk file has increased slightly. Mojang have implemented the Split APKs system. Now in Google Play Minecraft is divided into several parts. We had to combine them.
More detailed: What is Split APKs?
Split APKs is a system for dividing applications into parts. Allows you to download from Google Play only the necessary files for your phone model. Saves space. But not for pirates.
We had to merge all the parts into one file. Consequently, the pirated version of the game takes up more memory.
Equality with Java
If you love mechanisms, you know that they work differently on Java and Bedrock. The developers are fixing this:
The Observer block is no longer triggered instantly
Fixed bugs
20 fixed bugs. The main important:
Fixed crashes, crashes
Fixed a bug that made it impossible to collect water from the columns of bubbles
Fixed a bug that caused the Character Editor to not save changes
Mobs take damage again if they spawn on magma
This is a beta version. Make backup copies of the worlds.
Download Minecraft 1.15.0.53 Beta
Version 1.15.0.53 Beta
Working Xbox Live

Free login to your Xbox Live account is available. No restrictions.

Working servers without Xbox Live

To log in to the server, you no longer need to log in to your Xbox Live account. You can simply change your nickname and start the game on the server.
Official Changelog