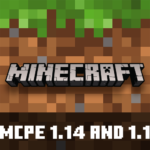 Minecraft PE 1.14 and 1.14.60
Download Minecraft PE 1.14 and 1.14.60 APK for Android with a working xbox live account! Mojang was not kept waiting long, Minecraft version 1.14 has already been published, the update can be safely called "Honey". Now Android players will meet new friends: Meet bees!
New mob: Bee
Bee is a new neutral mob. It attacks you only in response. Attacking the enemy, the bee loses its sting and dies after 50-60 seconds. Features of bees:
Collect pollen from flowers
Pollinate plants with pollen
Pollen is collected in hives and nests
Follow the player with flowers in their hands
Angry bees have red eyes
Afraid of water
They sleep at night and during the rain
Beehives and nests
A bee nest is a bee house that appears when the world is generated. You can only get a tool with a "Silk touch".
A bee hive is a bee house obtained by crafting. Requires 6 boards and 3 pieces of honeycomb.
How to collect honey?
Collecting pollen, bees replenish hives and nests. The level of honey inside grows from 0 to 5. From the filled hives with scissors, you can collect 3 pieces of honeycombs, and with a glass flask you can get a jar of honey.
Honeycomb and a jar of honey
Honeycombs
A honeycomb is an object obtained from hives and nests using scissors. It is used for crafting beehives and cellular blocks.
A jar of honey is an object obtained from beehives and nests using a glass flask. After drinking a jar, the player will restore 6 units of hunger and be cleansed from the effects of poisoning.
Honey Block
A honey block can be crafted from 4 bottles of honey. The block has the following features:
Slows down walking
Reduces the height of the jump
Reduces drop damage by 80%
By moving the honey piston, you will move the adjacent blocks
You can go down the honey block
Mobs try not to step on Honey blocks
Does not conduct a Red Stone signal
Download Minecraft 1.14 and 1.14.60
Version 1.14 and 1.14.60
Working Xbox Live

Free login to your Xbox Live account is available. No restrictions.

Working servers without Xbox Live

To log in to the server, you no longer need to log in to your Xbox Live account. You can simply change your nickname and start the game on the server.