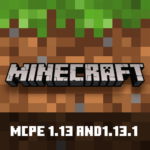 Minecraft PE 1.13.1
Download Minecraft PE 1.13.1 APK for Android with a working xbox live account! Mojang announced the release of a new version of the game – Minecraft 1.13 is already available for Android devices. Finally, foxes have been added to the game, but you can read about the rest of the innovations below.
Foxes
Probably the main innovation is the long-awaited Foxes. They lead a nocturnal lifestyle, sleep off in the woods during the day. Spawn in ordinary and snowy taiga. In the snow biome, it has the color of a arctic fox. They love sweet berries: feed two foxes and their cub will not run away from you.
Interesting things about foxes
If you throw an object, the fox will pick it up in his teeth. They hunt animals, can jump over fences and walls. Wolves and bears attack foxes within a radius of 18 blocks. Interesting facts:
If a fox has taken your item, throw her food and she will spit out an important item for you
Give the fox an enchanted object in the teeth, and the effect of the enchantment will work on impact
The totem of immortality gives a fox a second life when it is in her teeth
The fox will never attack the player
A fox who trusts you will protect you
Structural blocks
New improved Structural Blocks have been added, now they have full copy and paste functionality. Move your houses to new lands, save any buildings. See the guide with an example of how the structural unit works here. There are two ways to get a Structural block:
/setblock <x y z coordinates> structure_block
/give <player's nickname> structure_block <quantity>
Animation of walking
Interesting change: new walking animation. If you use the 1st person view, your camera will swing from side to side while running. This adds realism to Minecraft.
Chat Settings
Communication and correspondence are an important part of the game. That's why the chat settings were added. Quick and easy speaker activation. The ability to mute the chat completely. You can change the chat parameters from the list:
Font
Line spacing
Text color
The color of the address to the player
Other changes
In addition to the innovations listed above, a lot of important changes were made. Don't miss this list, every item is very important. Even the cow is in shock.
New clouds. Easy design changes.
The frames are installed on either side
Added Music block sounds
Light bulbs will help map makers add more lighting
Suspicious soup has an unexpected effect on the player
Be careful with the drying Rose, it can spoil the grass near the house
A brown mushroom cow is the result of a lightning strike on a red cow
Your character's textures have a height of 1.8 blocks
Added credits after killing the Dragon
Dead corals can be found in the open ocean
After the victory over the raid, a Holiday awaits you
Addon developers
A large number of changes are related to the development of mods and addons. Mojang continues to develop in this direction with incredible speed. Now it remains to expect a huge wave of new additions for Minecraft Bedrock. 32 edits were made to help in the development of addons.
Fixed bugs
Naturally, it does not do without problems and fixes. 123 bugs have been fixed. Each innovation is accompanied by problems that need to be fixed. No update is complete without this.
Download Minecraft 1.13 and 1.13.1
Version 1.13 and 1.13.1
Working Xbox Live

Free login to your Xbox Live account is available. No restrictions.

Free Skin Editor

All paid skin items are now available for free. Try on the item you like, it will be saved on your skin automatically.

Working servers without Xbox Live

To log in to the server, you no longer need to log in to your Xbox Live account. You can simply change your nickname and start the game on the server.