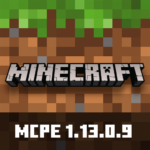 Minecraft PE 1.13.0.9
Download Minecraft PE 1.13.0.9 APK for Android with a working xbox live account! The Mojang team has not released so much new in small updates for a long time. Minecraft version 1.13.0.9 adds a whole set of innovations: a desiccation rose, suspicious soup, light blocks, new sounds and a few more items.
One of the important changes related to the interior: from now on, the player can install a frame on the upper or lower part of the block. Many players have been waiting for this, and now you can decorate the house in a new way.
As you know, the sound from the Music Block depends on which block it is located above. Not all blocks change the sound, and in this update, sounds have been added for blocks from the list:
Svetokamen
A sheaf of hay
The Emerald Block
Pumpkin
Sand Shower
Iron Block
Bone Block
Wool
Dense ice
Clay
Gold Block
In addition, we want to show you screenshots of the skin editor directly in Minecraft Bedrock. This editor was found by a Twitter user in the game client files, so it is possible that it will become a public feature very soon.
Several new items and mobs have been added to the new version. The pocket edition is increasingly approaching the PC version of the game. Let's look at a small list:
Suspicious soup. Imposes an effect on the player that depends on the ingredients when crafting.
Rose Desiccation. Dries up everything around.
Light bulb. You can adjust the glow level from 0 to 15. Added to the game for map makers.
Brown Mushroom cow. Appears from Red when struck by lightning.
Fixed the character display. Previously, the character looked like he was more than 2 blocks tall. The display of the character is configured, the correct height is 1.8 blocks.
That's not all. Other interesting changes in the list:
After the final battle with the Edge Dragon, titles are added to the game
Octopuses spawn in rivers
Added Dead corals
Added Celebration in the village after the victory over the Raid
Villagers can treat if they have bread in their hands
The existence of two Edge Dragons in the Ender World is excluded
Fixed 133 in-game bugs
This is a beta version. Make backup copies of the worlds.
Download Minecraft 1.13.0.9 Beta
Version 1.13.0.9 Beta
Working Xbox Live

Free login to your Xbox Live account is available. No restrictions.

Working servers without Xbox Live

To log in to the server, you no longer need to log in to your Xbox Live account. You can simply change your nickname and start the game on the server.
Official Changelog