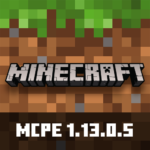 Minecraft PE 1.13.0.5
Download Minecraft PE 1.13.0.5 APK for Android with a working xbox live account! Today, a new version of Minecraft 1.13.0.5 was released with optimization of the game client and bug fixes.
Work on the full version of Minecraft Bedrock 1.13.0 is in full swing. The test version No. 4 has been released, in which 28 errors have been fixed. We remind you that the official number of corrected errors often differs from the truth. It is much easier for developers to write "Fixed bugs that lead to a crash from the game", and under this sentence there may be a whole bunch of work on optimizing the application.
As before, we will analyze and publish only the main items from the general list of changes from the official website.
Efficiency
– Fixed bugs leading to a crash from the game – this is the very point behind which a whole ton of work can hide
– Fixed crashes that occur when exiting Xbox Live
– Fixed problems when loading the game on Android
– Fixed crashes that occur when interacting with objects
– Fixed crashes occurring after sleeping in bed
– Optimized the operation of the application on Android
Common
– Products are no longer duplicated on the Market
Gameplay
– Armor and weapon recipes have been returned to the recipe book
– Mobs drop armor again after death
– Mobs no longer drop fully repaired armor by mistake
– Arrows no longer shoot back after hitting the ground
– The player will no longer be able to push the activated TNT
Mobs
– Fixed a bug that caused dolphins not to follow the player on the boat
– Fixed a bug where fish and dolphins could be immobilized after spawning
– Fixed the texture of the float while fishing
– Fixed incorrect display of the left wing of the elytra
Graphics
– Fixed the animation of the hand when switching between objects in the first person
This is a beta version. Make backup copies of the worlds.
Download Minecraft 1.13.0.5 Beta
Version 1.13.0.5 Beta
Working Xbox Live

Free login to your Xbox Live account is available. No restrictions.

Working servers without Xbox Live

To log in to the server, you no longer need to log in to your Xbox Live account. You can simply change your nickname and start the game on the server.
Official Changelog