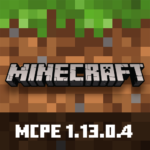 Minecraft PE 1.13.0.4
Download Minecraft PE 1.13.0.4 APK for Android with a working xbox live account! Players using Android devices can already experience a test update on their phone. All the corrected errors are described below.
Work on the future release of Minecraft PE 1.13 continues. This time Mojang released a new beta version with fixed bugs. The main errors will be discussed below.
The purpose of the update is to fix the errors noticed during the MCPE 1.13.0.2 tests. In total, 64 errors were fixed, the main ones are listed in the list.
Efficiency
– Improved game stability
– When using a structural block, the game no longer crashes
– Fixed crashes during shield protection from projectiles
– Fixed braking of the game on spawn
– Fixed a bug that occurs with the Xbox while changing the Internet connection
Common errors
– Fixed a bug when displaying the camera from a third person
– Adjusted player animation
– Fixed animation of the screen when the "Nausea" effect is applied
– Fixed the display of textures of broken elytra
– Fixed the display of sprinting/swimming when leaving the water
– Breaking items are displayed again in recipes
– Arrows are displayed correctly when they are mounted on armor racks
– Removed the "Create Realm" button from the test versions of the game
Gameplay
– Fixed a bug that led to the complete disappearance of monsters
– Fixed a bug that caused the melted objects not to stack
– Buttons added to the recipe book
Mobs
– Adult villagers can now go to bed with a low ceiling
– Mobs can get into a trolley and a boat again
– Fixed dolphin jumps
– Zombies don't get stuck in doors anymore
– Fixed the flight of parrots
– Dolphins are swimming behind the players on boats again
Graphics
– Fixed cloud darkening
– Fixed incorrect display of water textures on some servers
– Some blocks no longer change their color to black when moved by the piston
Development of addons and scripts- 12 fixed bugs related to development
This is a beta version. Make backup copies of the worlds.
Download Minecraft 1.13.0.4 Beta
Version 1.13.0.4 Beta
Working Xbox Live

Free login to your Xbox Live account is available. No restrictions.

Working servers without Xbox Live

To log in to the server, you no longer need to log in to your Xbox Live account. You can simply change your nickname and start the game on the server.