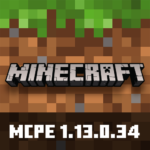 Minecraft PE 1.13.0.34
Download Minecraft PE 1.13.0.34 APK for Android with a working xbox live account! A large number of errors have been worked out, the stability of the client has been improved, crashes have been fixed, the most important innovations have been brought to error-free operation.
What's new?
More than 4 months have passed since the release of 1.13.0.2. During this time, 9 beta versions have been released. A lot of new things have been added to the game:
Foxes
Structural blocks
Skin Editor
Brown Mushroom Cow
Suspicious soup
Rose Desiccation
Abandoned villages
New notes for the Music Block
Five new coral species
Light bulbs
Chat Settings
Game titles
Skin Editor
Let's discuss the Skin Editor. This is an opportunity to change the character: body size, hairstyle, eyes and any other details. In the future, the Skin Editor will be improved: you can turn into anyone. For example, a penguin.
Foxes
A little bit about Foxes. Take care of your animals, because these cute creatures hunt at night when you sleep. Features:
Sleep in the shade during the day
They hunt at night
Move fast, avoid players
Pick up objects in the teeth
They eat sweet berries, multiply
The cub trusts the player
Attack rabbits, chickens and several mobs
They can jump over the fence
Structural blocks
Structural blocks have been added to the game. The mechanism allows you to move buildings. Select the zone, save it and paste it into the desired location. Moving has become easier! The block can be obtained using the command.
/give <player's nickname> structure_block <quantity>
Fixed the bugs?
Fixed 293 bugs. The most important part of the fixes: fixed crashes that everyone is tired of. In this version of Minecraft Bedrock, the developers have tried to fix the largest number of errors.
Download Minecraft 1.13.0.34
Version 1.13.0.34
Working Xbox Live

Free login to your Xbox Live account is available. No restrictions.

Free Skin Editor

All paid skin items are now available for free. Try on the item you like, it will be saved on your skin automatically.

Working servers without Xbox Live

To log in to the server, you no longer need to log in to your Xbox Live account. You can simply change your nickname and start the game on the server.