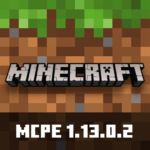 Minecraft PE 1.13.0.2
Download Minecraft PE 1.13.0.2 APK for Android with a working xbox live account! The day after the publication of the full version 1.12, the developers released another update – Minecraft 1.13.0.2. The first batch of fixed bugs for foxes on Android is already available for free download.
We remind you that a lot of new things were added in update 1.13.0: foxes, structural blocks, new walking animation, chat settings, clouds, chips for addon developers and much more. In order for all this to function well, Mojang released the Minecraft Bedrock 1.13.0.2 update with a bunch of bug fixes.
In total, 51 bugs have been fixed. The main important mistakes we have listed in the list below:
Working on performance
– Optimization of the game has been carried out
– Fixed crashes on iOS
– Fixed performance drop when using elytra in Edge measurement
– Fixed crashes in the behavior of villagers
– Fixed an error when connecting to the server
Common errors
– Fixed text-to-speech errors
– Chat prompts no longer appear every time a player passes through the portal
– Fixed incorrect display of some menu buttons
– Fixed the camera position during the character's sleep
– Fixed a bug that caused the game logo to change in the menu after activating the Education Edition mode
Gameplay
– The leaves obtained by the silk touch effect are now properly stacked with other leaves
– Fixed a bug that caused parrots to land incorrectly on the shoulder
– Players no longer play music after a breakdown
– The Desiccant's health bar no longer disappears if the player runs away from it
– Fixed crafting recipe for beds
– Fixed a bug that caused a player eating during teleportation to the Lower World to get to a random place
Mobs
– Foxes no longer run away from the player if he steals
– Foxes now have the same movement speed in both Java and Bedrock versions
– Reproduction of two taiga (orange) foxes in a snowy biome no longer results in a Snow Fox cub
– Foxes no longer drown trying to catch fish in the pond
– The villagers no longer have problems on the way in trying to get to their workplace
Blocks
– Dynamite can now be crafted from both ordinary and red sand
User Interface
– The duplicated Minecraft PE loading indicator has been removed
This is a beta version. Make backup copies of the worlds.
Download Minecraft 1.13.0.2 Beta
Version 1.13.0.2 Beta
Working Xbox Live

Free login to your Xbox Live account is available. No restrictions.

Working servers without Xbox Live

To log in to the server, you no longer need to log in to your Xbox Live account. You can simply change your nickname and start the game on the server.
Official Changelog