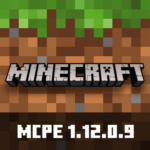 Minecraft PE 1.12.0.9
Download Minecraft PE 1.12.0.9 APK for Android with a working xbox live account! The update of the new version of Minecraft 1.12.0.9 continues changes in the field of addon development, as well as fixes 30 important bugs.
Nothing new? We still don't know what exactly will be added to the future release of Minecraft Bedrock Edition 1.12. Perhaps the developers are already gradually introducing some innovations in version 1.12.0.9, but we are not informed about this. Hopefully, the 1.12.0.9 update will make the game more stable.
As in the last update 1.12.0.6, there are no global innovations in this test version 1.12.0.9. The developers have once again fixed a large number of bugs, for which we can thank them very much. Among the 30 changes, we have highlighted the main one.
Working on performance
– Fixed multiple crashes from the game. We have received many complaints on this topic
– Fixed crash from the game when loading maps from the Market
– Improved the performance of the game client when you are inside or near the village
– Fixed numerous delays in Minecraft
– Many players complained about crashes when logging in to Xbox Live. Work has been carried out on this error
Common errors
– Fixed bugs in the Market
– Fixed the display of screenshots on the Market
– Fixed several bugs related to in-game invitations at once
– Fixed a problem with loading skins after restarting the game
Gameplay
– Fixed an issue where it was impossible to feed animals with a bale of hay
– Players are now reborn at the correct point on the map after dying in the Pocket Edition world
Mobs
– The Iron golem now swings from side to side while walking
– Graphics
– Fixed a sitting cat model that was obtained after taming an ocelot
– Enchanted armor and bows glow again from the enchantment
In addition to the fixes, edits have been made for mod developers. It became noticeable that Mojang is working closely on this direction. Mods have reached a new level, many players have definitely noticed this. Test new mods from our website.
This is a beta version. Make backup copies of the worlds.
Download Minecraft 1.12.0.9 Beta
Version 1.12.0.9 Beta
Working Xbox Live

Free login to your Xbox Live account is available. No restrictions.

Working servers without Xbox Live

To log in to the server, you no longer need to log in to your Xbox Live account. You can simply change your nickname and start the game on the server.
Official Changelog