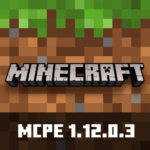 Minecraft PE 1.12.0.3
Download Minecraft PE 1.12.0.3 APK for Android with a working xbox live account! You can download the new build for free at the end of the article, before that you should familiarize yourself with the details of the update.
The bulk of the changes are related to fixed bugs. The only change that has been made to the game is the main menu button "Shop" has been renamed to "Marketplace". Work continued for Android addon developers, several amendments were made.
What bugs have been fixed? There are a whole bunch of them, more than 50 fixes were made for one small Minecraft update on Android. An abbreviated list of the main fixed bugs:
As always, critical bugs have been fixed
Fixed a bug that occurs when loading worlds from the Marketplace
Improved the performance of the game client when the player is near the village
Fixed the text in the main menu
Fixed a bug where when using the last item in the stack, an achievement might not unlock
Player models are no longer displayed with their legs and arms upside down
Shields and tridents no longer disappear in the hands of the player
Witches no longer jump when attacking
A falling block of lava turns back into a boulder when hit by water
When raiding, enemies break down doors faster
And many other fixes…
Version 1.12.0.3 is a beta version. Using the test version, you may encounter errors, unforeseen problems. Use at your own risk! We publish a virus-free version, without checking the license with free Xbox Live. To get access to all test functions, do not forget to activate the Experimental Gameplay in the game settings.
This is a beta version. Make backup copies of the worlds.
Download Minecraft 1.12.0.3 Beta
Version 1.12.0.3 Beta
Working Xbox Live

Free login to your Xbox Live account is available. No restrictions.

Working servers without Xbox Live

To log in to the server, you no longer need to log in to your Xbox Live account. You can simply change your nickname and start the game on the server.
Official Changelog