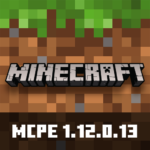 Minecraft PE 1.12.0.13
Download Minecraft PE 1.12.0.13 APK for Android with a working xbox live account! This time, a new version of Minecraft 1.12.0.13 on Android was published. Are you waiting for the developers to release innovations at least this time? It wasn't there… there are only 6 fixed bugs, the main innovations still remain behind the scenes.
Mojang continues to regularly release new test updates of MC 1.12 with a minimum number of fixed bugs. New portions of fixes are coming out more and more often.. to be honest, even we are already tired of it. Let's not blame the developers. We need to believe that everything is for the best.
Let's discard unnecessary arguments and go straight to the description of the update. In total, 6 in-game issues have been fixed that may interfere with a comfortable game in Bedrock Edition. The list of corrected errors is taken from the official website.
Game Performance
– The old-fashioned way, work has been done on critical errors, including constant crashes from the game
– Improved the speed of the game on Android
– Now when you try to fill an overflowing barrel, the game will not crash
– Fixed crash from the game related to incorrect display of the Bucket texture
Common errors
– The Global Resources settings tab now correctly displays the type of packages used
– Addons and scripts
– Changed the documentation of scripts for Billboarding (Who knows what it is? Reply in the comment)
We have suspicions that the Minecraft Pocket Edition 1.12 update will be entirely devoted to the development of mods and addons. Have you noticed that a large number of mods for version 1.12 have cool functionality? Players who constantly use add-ons have definitely noticed this. We hope that at least something new will be added later.
This is a beta version. Make backup copies of the worlds.
Download Minecraft 1.12.0.13 Beta
Version 1.12.0.13 Beta
Working Xbox Live

Free login to your Xbox Live account is available. No restrictions.

Working servers without Xbox Live

To log in to the server, you no longer need to log in to your Xbox Live account. You can simply change your nickname and start the game on the server.
Official Changelog