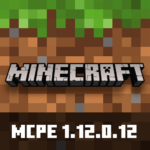 Minecraft PE 1.12.0.12
Download Minecraft PE 1.12.0.12 APK for Android with a working xbox live account! No, and below we will explain why we think so. Before that, we will naturally announce the release of the new version of Minecraft 1.12.0.12 on Android. New fixed bugs, new fixes, new… stop, there are no innovations. Again? Let's figure it out.
So, why are "small" updates useful? In the last couple of years, developers have very often released a huge number of innovations. There were complaints from players "We don't have time to get used to it, but something new is already coming out …". At the same time, the number of in-game errors was growing, and the load on the Minecraft PE client was growing.
Today we have a large volume of flaws that can only be corrected by working on errors. Hopefully, minor updates will bear fruit, and we will not face instability during the game. Perhaps the developers are just busy working on the additional reality of Minecraft Earth. Time will show.
Back to update 1.12.0.12. 6 bugs have been fixed in Minecraft Bedrock Edition. No changes, just hard work on performance. A short list of fixed bugs is below.
Efficiency
– Standard: fixed crashes that occur during the game- Fixed crashes from the game when viewing the list of available skins
Common errors
– Skin packs now correctly show the number of available skins
– Skin selection works correctly
– Fixed a bug that prevented the purchase of skins on the Market
Development of mods and addons
– The "NearestAttackableTargetGoal" attribute will now work correctly. Important only for the creators of add-ons
This is a beta version. Make backup copies of the worlds.
Download Minecraft 1.12.0.12 Beta
Version 1.12.0.12 Beta
Working Xbox Live

Free login to your Xbox Live account is available. No restrictions.
Official Changelog