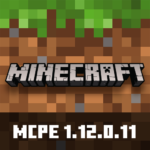 Minecraft PE 1.12.0.11
Download Minecraft PE 1.12.0.11 APK for Android with a working xbox live account! This time the developers have released Minecraft version 1.12.0.11 with a new batch of fixed bugs for Android. Judging by the number of updates released in this version, the update will be released very soon. We are looking forward to it, but in the meantime, let's get acquainted with the features of 1.12.0.11.
Fixed bugs in Minecraft 1.12.0.11
The MCPE update has fewer than 10 fixed bugs.
Efficiency
Download Minecraft Bedrock 1.12.0.11 should be at least due to the fact that much attention was paid to the performance of the game. Particles emitted from the Wanderer Edge, as well as underwater columns of bubbles no longer reduce the FPS score.
Skins and Market
Fixed the use of skins. Previously, the player's skin was changed to the standard one if there were problems with the Internet connection. Several similar bugs related to the use of skins have also been fixed. Another mistake related to the market: now the correct number of coins is indicated when buying a product.
Turning grass into dirt?
Before the release of this update, players faced an interesting problem: some areas of grass suddenly turned into blocks of dirt for no apparent reason. Such a strange error was first noticed in update 1.12.0.9. Today, the developers announced that the bug has been fixed.
Death reports
Fighting with zombie inhabitants, you can be defeated. In this case, a corresponding message about this will pop up in the chat. Before the release of the free version 1.12.0.11, an incorrect mob name could get out in the chat:
Console commands
As you know, the Village and Pillage update brought with it several pleasant innovations, including new villagers. Working through console commands, you can now use the "target" of the village_v2 command, thereby selecting both new and old residents.
This is a beta version. Make backup copies of the worlds.
Download Minecraft 1.12.0.11 Beta
Version 1.12.0.11 Beta
Working Xbox Live

Free login to your Xbox Live account is available. No restrictions.

Working servers without Xbox Live

To log in to the server, you no longer need to log in to your Xbox Live account. You can simply change your nickname and start the game on the server.
Official Changelog