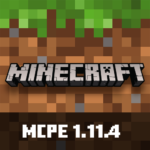 Minecraft PE 1.11.4
Download Minecraft PE 1.11.4 APK for Android with a working xbox live account! Unfortunately, this is the case. Let's look into the update in more detail. Do not forget that the Mojang team does not advertise all the update points, which means that errors have probably been fixed, but they were not mentioned, so we recommend downloading this version of the MCPE.
As already mentioned, the Minecraft Bedrock 1.11.4 update is dedicated to Nintendo Switch devices, the developers have implemented all the changes and fixes from version 1.11.3 for Nintendo Switch. You can read more about these changes here. In the meantime, let's move on..
Has nothing been released for Android? We believe that this is not the case. If no fixes had been released for Android, the developers would not have released an update for Android, but would have released only for the Nintendo Switch. At the same time, for some reason, we see an update for Android, which means that there are hidden fixes here.
Download Minecraft 1.11.4
Version 1.11.4
Working Xbox Live

Free login to your Xbox Live account is available. No restrictions.

Working servers without Xbox Live

To log in to the server, you no longer need to log in to your Xbox Live account. You can simply change your nickname and start the game on the server.