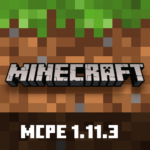 Minecraft PE 1.11.3
Download Minecraft PE 1.11.3 APK for Android with a working xbox live account! The full version 1.11.3 fixes several important critical bugs and makes changes to the mechanics of the game.
You can find Minecraft PE 1.11.3 at the end of the article, but before that we recommend that you read the full list of changes and fixed bugs in this version. The free update is fully compatible with any version 1.11. This means that you will still be able to play online with those who do not play on the same version as you.
What bugs have been fixed? In the Android release published below, several important points have been fixed.
The game no longer crashes when mobs encounter another vulnerable mob
After updating the map with the villagers V1 to the new V2 version, the accumulated experience of the villagers is preserved
If you cure an infected villager, he will no longer change his profession
Fixed a bug that caused villagers to change their profession for no reason
Creatures that can't swim can walk on the bottom of the water again
Fixed a bug that caused player names not to be displayed in Minecraft Realms
Using console commands, villager and zombie_villager targets involve both types of residents (old V1 and new V2)
Download Minecraft 1.11.3
Version 1.11.3
Working Xbox Live

Free login to your Xbox Live account is available. No restrictions.

Working servers without Xbox Live

To log in to the server, you no longer need to log in to your Xbox Live account. You can simply change your nickname and start the game on the server.