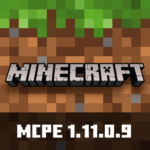 Minecraft PE 1.11.0.9
Download Minecraft PE 1.11.0.9 APK for Android with a working xbox live account! Mojang developers have published another test version. You can download Minecraft 1.11.0.9 right now! In this update, multiple bugs related to game performance, gameplay, mobs and blocks have been fixed. The full list of fixes can be studied below.
List of fixed MCPE 1.11.0.9
Performance bugs
– Fixed scripts working with objects that do not have health: boats, lasso, and so on
– The game client crashes less often
– Fixed a crash that could occur when a player receives the Brand of Trouble effect
– Fixed several other crashes that occur while playing Minecraft on Android
Common errors
– Now, when you reconfigure the buttons in the Nintendo Switch, the correct control prompts pop up for the player
– Players can now choose Mario skins from the expanded list of skins in the game
– The pool of skins selection for the player has been expanded- Text-to-speech conversion works correctly again
– The text-to-speech converter now reads pop-up messages correctly
Gameplay
– TNT dynamite explosion removes the healing effect from the player
– Fixed interaction with the Grindstone
Blocks
– Sea grass no longer destroys blocks on the way during growth
Mobs
– Mobs will spawn correctly in the icy biomes of Minecraft PE
Graphics
– The texture of the redstone wire has been changed
Console commands
– Using the console command /clear no longer throws an error
Before downloading Minecraft PE 1.11.0.9 to an Android phone, we need to remind you that this version of the game is a test. Be extremely careful, because many of your worlds can be corrupted. The test version of MCPE does not guarantee stable operation of the game. You can read more information about this assembly in the main article.
This is a beta version. Make backup copies of the worlds.
Download Minecraft 1.11.0.9 Beta
Version 1.11.0.9 Beta
Working Xbox Live

Free login to your Xbox Live account is available. No restrictions.

Working servers without Xbox Live

To log in to the server, you no longer need to log in to your Xbox Live account. You can simply change your nickname and start the game on the server.
Official Changelog