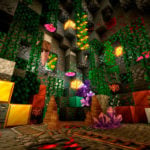 Minecraft 3D Texture Pack for Minecraft PE
If you want to make the game world even more voluminous and beautiful, then you will definitely need to download Minecraft 3D Texture Pack for Minecraft PE on Android.


This pack will make the world much more beautiful and unusual, now all the textures will acquire depth, and some of their elements will become many times more realistic (as far as possible). With this pack you will get into a whole new world, which will be filled with bright colors and picturesque blocks.


Pak will be interesting primarily to those players who are tired of monotony and wants to get from the game completely new emotions and impressions. The author of textures Minecraft 3D paid great attention to detail and elaboration of blocks, which, surprisingly, fit well into the cubic universe. Textures are available in two resolutions: x64 & x128.