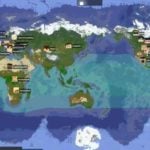 Maps: World Map 1:4000 (1.14+)
The 1:4000 Scale Map of Earth was originally developed for the Java version, but later ported to the pocket version. A unique work that represents a reduced globe. Minecraft, as always, offers the whole community new opportunities that may not be available in the real world. Here each user will be able to explore different countries and the nature of various points of the world. All this is available in this creation. Travel with friends around the world!

An extremely large-scale creation, which was developed by many builders for many hours and days. The development of such a map was shown by many popular streamers on equally well-known platforms.
The scale of creation is 1 to 2000, which is extremely large even for most powerful devices. After installing the build, the game crashed and there were constant problems with loading. To correct this phenomenon and the possibility of access for many users, the author has reduced the map – now the scale is 1 to 4000, which means that the problems should disappear. However, the weight of the assembly is more than 600 MB, and the dimensions are 10752 × 5376 blocks.
The creation will allow you to create huge cities or other structures together with your friends. The unrealistic size of the cave will attract every user, where there are reserves of various ores.
For navigation, you can also use the earth coordinates, which are practically aligned in accordance with the real ones. The reason for the slight discrepancy is porting the creation to the pocket version.


Egypt

Central Europe and the United Kingdom

Russia and Scandinavia

Iceland and Greenland

North America

Changes in the new version
A completely new map from Java has been selected for the basis
Bamboo
Bee hives