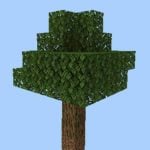 Skyfactory Maps for Minecraft PE
The Skyfactory map is a skyblock build that was previously developed exclusively for the Java version of the game, and now it is available to all users of the pocket version of the game. The add-on includes several mods. The start of survival takes place on a floating island, in which there is absolutely nothing but a single tree. In the end, your goal is to survive by getting to the dragon and killing it.
The add-on also contains a book of quests that you must complete. Read the book to get started, but note that everything will be in English. Call your friends – the add-on is also designed for multiplayer mode.
Changes in the new version