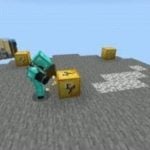 Maps: Lucky Skyblock
Survival in Minecraft is not complete without a share of luck – loot from mobs, treasures in rare structures or just a successful spawn. The share of luck in such matters is high, and with the Lucky Skyblock card, luck will depend even more on luck. On this map, the player's survival will directly depend on the loot from the laciblocks.
If the player is lucky, the laciblocks will provide a carefree existence and easy passage of the map, and if not, then the journey will end without starting.

With luck, the player will visit different islands, where there will also be laciblocks.

Exploration will take the player to other islands where there will be deserts, mines, lakes, floating islands and even houses. Be careful with large accumulations of laciblocks – rapid destruction will lead to chaos and the game may crash.

When the laciblocks are destroyed, various things happen: either the player will receive items, or he will break into a trap, or he will meet a mob. The developers have added more than 30 types of events that will occur when the laciblocks are destroyed. Multiplayer mode is available for playing with friends.