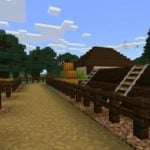 Maps: Lots of mini-games
Mini Game Map is a collection of 23 mini-games for playing Minecraft with friends. The build supports multiplayer mode so that each player can invite their best friends and play all 23 exciting games with them.
List of Spliff mini-games
TNT split
PvP Arena
Sumo
Horse race
Sheep shearing
TNT Ran
Maze of Fear
Moborezka
BedWars
Hide and seek
Bridge Builder
The right tool
Maze
King of the Mountain
Parkour
Party Block
Rain from anvils (not recommended on weak devices)
Flight on elitras
Minefield
Dropper
Descent
Piston Puzzle
Interesting features
Moborezka can be played even in single player mode
Cool lobby
The names of the players in the maze are hidden to improve the gameplay
Armor in PvP is dressed automatically (except diamond armor enchanted for indestructibility 1000)
Added options to adjust settings
In the mini-game "Sumo" the edges will disappear
The maze can be played by 1 player
There is also a scoring system that will help determine the winner! If you suddenly find an error, write to the creator of the map – link.
Passing
Changes in the new version