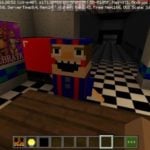 Maps: FNAF 2 Multiplayer
On the FNAF 2 Multiplayer map, all users will be able to enjoy survival against animatronics together with their friends. The build is ideal for multiplayer, since it was developed specifically for this mode in Minecraft.
How to play?
Immediately after entering, you need to press the button on the non-granite block, after which the players will be transported to the location of the main plot. The add-on supports from 1 to 4 players. The goal of the animatronics is to get to the security office and kill the guard, and the goal of the guard is to escape from the animatronics. The guard will have useful items: a mask, a flashlight and a camera.
Gameplay
The mask sends the animatronics back to the stage, and the cameras will help track the actions of the monsters. To activate them, click on the "Create a map" button. There is a puppet scale on this map that needs to be constantly wound up: if this is not done, then the puppet attacks you and the round ends. The lantern will help to illuminate the dark corners of the building.
Users who play as animatronics will need to get to the office. First they go to "Pars/service" and click on the button labeled "Open". Then all ventilation passages and doors of the Pery Room 1-2-3-4 will open. It is not necessary to open the ventilation passage in the toilet. For fast movement, BB or Baloon Boy is used, which is located next to the stage. To go to the guard, you need to press the button on the ball, and then the Balloon Boy will appear, which turns off the flashlight and accelerates the animatronics. If the guard manages to put on a mask while the Balloon Boy is in the ventilation, then he does not attack, and animatronics do not receive bonuses.
The assembly was created by one of the visitors of our site with the nickname Pictogan. He has his own YouTube channel where you can learn more about this map.