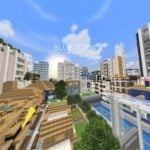 Maps: Blue Topia
The best city that was created on the expanses of Minecraft Bedrock is the Blue Topia map. More than 400 different structures, including a giant amusement park, a fully operational metro system with 50 stations. There are many different architectural solutions, styles and approaches gathered in one city. An unreal city where everyone will find their favorite building and get inspired.
Welcome to Blutopia!
The city is developed on the basis of Hong Kong and New York. The beginning of work on the map is considered to be 2012, when the first block and the first structures were erected, which became the foundations for the future of a huge metropolis. In the latest update, a subway has appeared, decorated with a magnificent lighting system, shops and a bunch of buildings around. Despite such a large-scale size of the town, traveling through the points will not take much time, thanks to the ingenious system of movement.!
Changes in the new version
More than 50 new structures
New cities