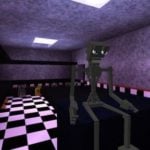 Maps: Animatronics at Freddy's
Developers continue to stuff the world of Minecraft Pocket Edition with animatronics robots. Creepy mobs are just as popular in the block universe as skyblock creations. The Five Nights at Freddy's card offers to plunge into Freddy's world again and visit his own pizzeria. The task is still the same – to survive until six in the morning in a dark pizzeria full of robots. Run as fast as possible, because animatronics are not the kindest creatures, so it's better not to cross paths with them.

The assembly received 3D models of mobs, cameras, creepy sounds, edible pizza, automatic doors and, of course, nightmarish monsters. Please note that the creation only works with version 1.14.1.3.

Chika, Bonnie and Foxy are active guys, and Foxy is the fastest animatronic. Freddie will be hiding in his own pizzeria.


Changes in the new version
Balanced animatronics
Fixed bugs