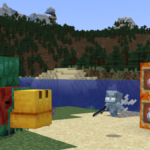 Java Aspects Texture Pack for Minecraft PE
Download Java Aspects Texture Pack for Minecraft PE on Android if you want to give the mobile version of your favorite cube game a more "computerized" look.


As some of you may know, MCPE is visually a bit different from its PC sibling. It doesn't look worse, it doesn't look better just different. But some players don't like such differences, so the desire to make MCPE look like the PC version is understandable.


This pack will help to change not only the visuals of MCPE, but also its sound. In general, everything is focused on making the game look like the java version. And if you also have such wishes, then safely use this pack and enjoy the changed graphics on your cell phone.