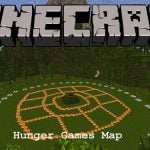 Hunger Games Maps for Minecraft PE
Download Hunger Games maps for Minecraft PE on Android and enjoy a pack of top-notch survival maps for your favorite cube game! Below you will find three unique maps: classic, brutal survival and in modern style.
Gather in groups, collect resources, survive and win! The maps can be played both in teams and solo, but the presence of companions is still welcome. For example, on the map Survival can play up to 24 players at the same time!