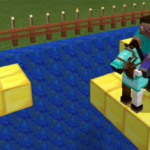 Horse Parkour Map for Minecraft PE
Download Horse Parkour Map for Minecraft PE on Android and jump into a new and unusual parkour, where you will have to ride a horse to pass various levels.
The map is quite difficult, because it is more difficult to control the horse than the player himself. To learn and get used to the control will take some time. On the map you can play as yourself, and learn new skills in parkour, and with friends in multiplayer.
How to play?
To start the game, you need to choose the horse you like the most, they are in the stables.

After choosing a horse, go to the starting line with other players.

Start counting down from five and then start the competition.

Each of the levels includes several different parkour challenges.

Be careful when completing the level, some of them will be dangerous and challenging.