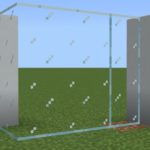 Connected Glass Addon for Minecraft PE
Download Connected Glass Addom for Minecraft PE on Android and get rid of the unaesthetic borders of glass blocks forever.
There are a large number of mods like Connected Glass or texture packs, but this option can be considered the most refined. Works like a Swiss watch!
Connected Glass Mod
Previously, it took a lot of time to remove the boundaries of blocks in Minecraft on Android: you had to enter a dozen commands. With this mod, everything is much easier – it adds glass without borders to the game.
Now the glasses connect by themselves. In addition, you can create glasses on the workbench. The Faithfull texture pack can be used for the mod – for convenience. Don't forget to activate the experimental features for the game.