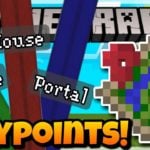 Chetty's Waypoints Addon for Minecraft PE
If it's hard for you to navigate the world of Minecraft or you would like to mark some important place on the map, then you definitely need to download Chetty's Waypoints for Minecraft PE on Android. The addon allows you to mark important points on the map and easily navigate to them.
Craft

To use a book, you need to interact with it. After that, a menu will open in which there will be items "parameters" and "view all locations".

Once you have the marked points, you just need to click on it and you teleport to it.

Parameters
This section shows a number of options that are available in this add-on.

New location
This option will allow you to add new locations and add various settings to them.


Deleting locations
This function will allow you to delete the location you don't need.


Changing the location
In this section you can change the name of the location and the color of the text.


Operator
This option allows you to visualize another series of options. This will allow the operator to maintain the best control in the world. To access the operator's functions, use the "IsoP" tag. Use the command "tag [player_name] add IsoP".

Deleting a location
This function works similarly to the previous one. The difference is that the operator can delete absolutely all points of the location. it doesn't matter if they are personal, the operator can delete them without any problems.





Location Restriction
This function will allow you to change the number of locations per player. By default, the player has 32 location points. Maximum value, 128 points.





Viewing private locations
In this option, you can see the private locations of the players and teleport to them.



View all places
In this section you can see all the places marked by all the players. Only public points are visible.


The blue dot is private and the white dot is public.