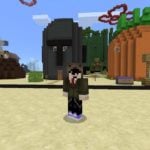 Bikini Bottom map for Minecraft PE
Download Bikini Bottom map for Minecraft PE on Android and get into the spirit of the cult animated series!
Many people have wondered how will a small fish town at the bottom of the ocean will look in a cubic way? Thankfully, the developers presented a map that repeats in detail the surroundings of Bikini Bottom. They made sure that all the buildings were identical to the original structures. Some of the houses will even seem taller; due to the nature of Minecraft PE all objects seem more bulky and massive. The city itself is quite large, thanks to the over 50 different buildings.
Some of the houses look like their originals, but other buildings are improvisation of the authors. On the map you can see several new buildings that have not been seen before in the classic SpongeBob show. And of course, there's the famous Crusty Krabs and Chum Bucket diners.