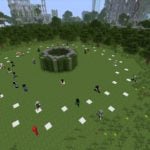 Apocalyptic City Maps for Minecraft PE
Download Apocalypse maps for Minecraft PE on Android and try to last the longest in these dead, abandoned worlds.
Dead Realms for playing with friends
If you have played the Notch project, you know that there are as a variety of animals, monsters… and zombies. Many players after watching various movies about apocalypses would like to see the same atmosphere and in their favorite game.
We have picked up a collection of maps for survival with zombies, so that each user can test themselves in the fight against these monsters.
Apocalyptic City map

The first thing you will have to do is to visit a certain apocalyptic city. The location is a destroyed metropolis, surrounded by a glass dome.
On the territory of the city are placed spouners zombies, which will appear very often! The map is made for the "hunger games" mode. In this mini-game the strongest survives.
The map is recommended for a company of at least four people.
In many buildings you can hide from other players, as well as find chests with good loot, which will help to defeat other users.
The location itself is not very large, so matches can be held often. Before starting a round, it is recommended to set the night time so that zombie spooners work well!
Dead World map

The Dead World is not a place for the living. The location represents the surrounding world after a nuclear war. Exhausted trees and empty land without any vegetation speaks volumes.
The map was built in the "old" style, which means that it is small and will not burden users' devices!
On this location you can place zombie spoucers, install a mod for firearms and test yourself on strength!
Zombipolis map

Zombopolis… OK, we take it back: THIS place is definitely not for the living. There are many different abandoned buildings on the location.
Unlike the first map, on this one all the houses are not similar to each other. There is a destroyed school, an airplane that crashed into a building and many other objects!
Many of the houses have monster spouters so that players don't get bored. In addition, there are also chests with loot, so users will not die quickly. On this map, you can install a weapon mod and play with a friend in the same world!