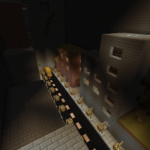 Advanced Parkour Map for Minecraft PE
If you want to really test yourself, then we recommend to download Advanced Parkour map for Minecraft PE on Android. Why? Well, there is no secret.
Advanced Parkour – this is yet another quite awesome parkour map with the use of command blocks, there are stats, the ability to go back to the beginning of the map. The map is not so simple, you will have to think a little, the map consists of 10 easy and 5 difficult levels to pass. Try to pass, are you good at jumping?