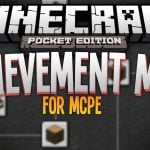 Achievement Mod for Minecraft PE
If you love to perform achievements in the world of Minecraft, then you should definitely download Achievement Mod for Minecraft PE on Android, which will increase their number. Each user will be able to get 50 more new objectives to fulfill in the blocky world. User interface, special sounds and menus with completed tasks are only a small part of what this add-on will provide.
The author spent hundreds of hours and several months developing the build. The beginning was laid in May this year and only in November we will be able to enjoy the work of the creator. Hurry up and install and appreciate the add-on on its own merits.